Our Staff
Pastor Woody Whitt & Family
Woody was an Army "brat" born in Germany in 1960 and was raised in North Carolina, Georgia, and Colorado. He enlisted in the Marines in 1977 and served manily in the Pacific Rim and Far East until he retired in 2000. He has served as Pastor at Memorial Baptist Church since retirement. He is married to the former Dolores Mallari Balajadia from Concepcion Tarlac Philippines. They were married in Southern California in January 1983. Their daughter Katherine was born in Orange, California in October 1983 and their son Robert was born in Kailua, Hawaii on November of 1987. Woody received Jesus Christ as his Lord and Savior in 1981 in Okinawa, Japan through the work of, Christians in Action Missionaries, Jerry and Karlyn Ehrhardt. From the beginning the Lord called his family to Memorial in April of 2000. Woody and Dorie's (Dolores) greatest joy is to see people's lives transformed by the power of the Gospel of Jesus Christ.
Phone: 910-743-3911
Email: pastorwoody00@gmail.com
Jay Swain: Pianist and Music Director
Jay Swain grew up in church as a child. Church is still an important part of his life today. Jay is married to Angela Swain and they have two sons, Jason and Aaron. If you would like to book your music group to possibly come to our church, please contact him at your convience.
Phone: 910-743-3911
Email: jaswain1@ec.rr.com
Jackie Sheldon- Secretary
Phone: 910-743-3911
Email: memorialbaptistmaysville@gmail.com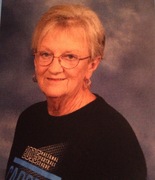 Juanita Quade- Custodian
Cynthia Toler- Youth Director